Washington Dual Language Academy
The English-Spanish Two-Way Dual Language Program allows students in prekindergarten through eighth grade to learn in Spanish and in English. Each classroom is comprised of native English-speakers and native Spanish-speakers. The richness of our diverse student population is an added bonus for our community.
Enrollment to Washington Dual Language Academy
Complete the online application by clicking here.
Applications are accepted for kindergarten through first grade (if space permits). Grades 2nd and higher are only accepted if space permits and have previously participated in a dual language program or is a newcomer to the country. Priority is given to students with siblings currently attending Washington Dual Language Academy. Families are notified by early May of each academic year if their child will be attending WDLA. All new families must register at their child's home school.
Consider the following as you decide if dual language is the right choice for your family:
Is your child comfortable in a variety of education settings?
Has your child expressed an interest in different people, places, and things?
As a family, will you support learning a second language through school attendance, participation in school events, and practice of both languages at home?
What is a Two-Way Dual Language Program?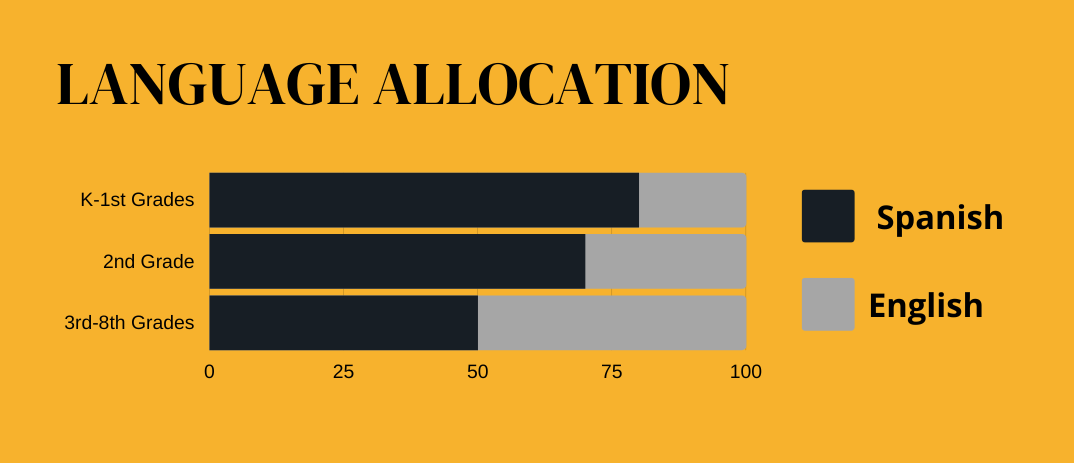 English language learners and native speakers of English are integrated and learn language through content in both English and the target language (Spanish).
Students become biliterate, bilingual, and bicultural.
Dual Language programs provide an environment that embraces diversity and strives for excellence for all students.
The Dual Language Program provides students with the opportunity to learn in two languages, while maintaining high academic standards.
How long does it take to learn a new language?
Students acquire basic interpersonal skills in the first year to three years and then acquire cognitive academic language proficiency between 3-7 years.
In order to become truly bilingual and biliterate and prepare for the Seal of Biliteracy, it is important to commit to the program through eighth grade. A parent letter of consent and commitment is signed prior to placement.
Benefits of Bilingualism
Research shows learning an additional language is beneficial to both language and brain development.
Students who participate in the Dual Language Program have the opportunity to earn the Seal of Biliteracy in high school.
What is the Illinois State Seal of Biliteracy?
Students who demonstrate high proficiency in English and Spanish language through testing will receive a seal on their high school diploma as well as a note on their high school transcript. They can earn credits toward colleges and universities post-secondary. This honor can be used to distinguish students in college admissions, scholarship opportunities, and the job market.
Contact us for more information.
Director of Bilingual Services – Jill Zapata
Principal of WDLA  – Lourdes Perez